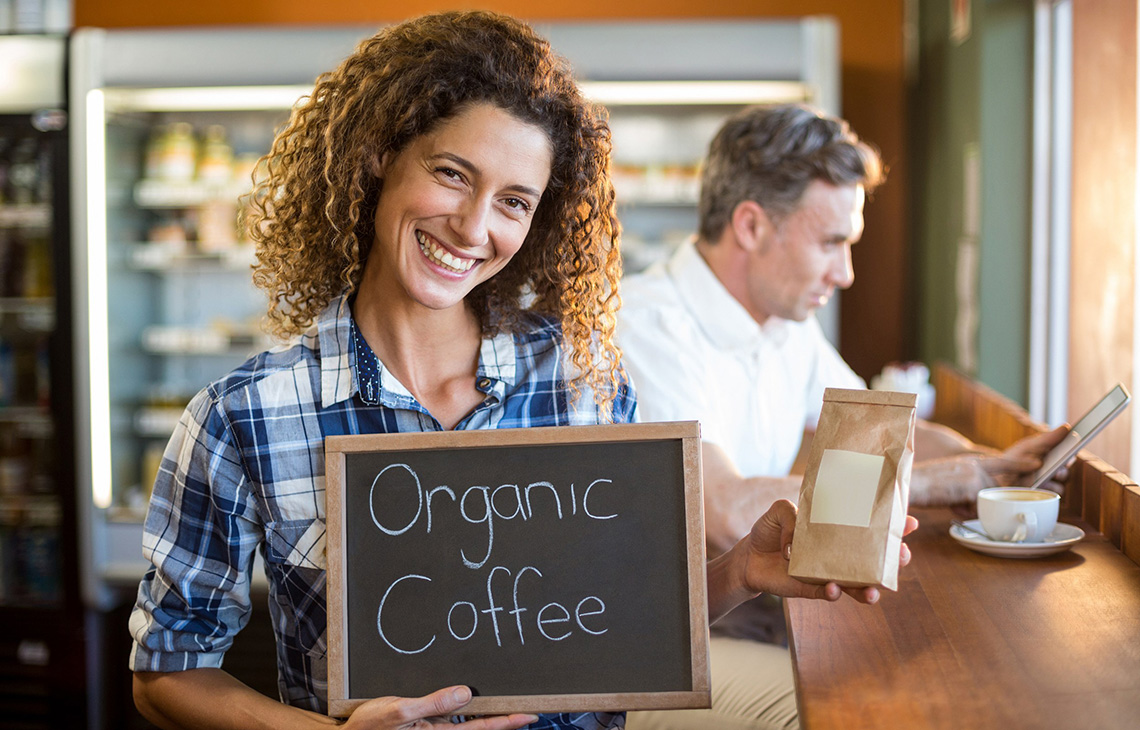 10.7 million tonnes of starch are produced in Europe, mainly from maize and wheat. It can be used in its natural form or after modification in blends. In addition to food packaging applications, pure starch can be used as a loose-fill material.
Starch can be used as a compound partner to increase strength and reduce costs. The addition of starch improves the biodegradability of the material and increases its degradation rate. The starch content in these compounds can be up to 70 percent. In this case, the thermoplastic starch is often mixed with water-repellent, biodegradable polymers.
Composition of starch compounds
Starch compounds consist of two phases: the continuous hydrophobic polymer phase and the disperse hydrophilic starch phase. Together, they form a waterproof starch plastic. Most flexible starch compounds contain biodegradable polyester as a blending partner.
The largest manufacturer, Novamont, uses reactive extrusion to produce starch compounds in Italy from the main raw materials maize starch and copolyester, some of which contain components from vegetable oil. Novamont's production capacity has been increased to 150,000 tonnes per year thanks to its factory in Patrica.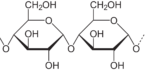 Symbol legend

positive evaluation

Evaluation in individual cases

predominantly critical evaluation
In the following, you will find a selection of materials manufacturers.
Biotec GmbH & Co. KG
The German manufacturer Biotec GmbH & CO KG has a capacity of over 25,000 tonnes and specialises in compostable plastics made from starch compounds based on polylactides (PLA), polyhydroxyalkanoates (PHA) and polybutylene adipate terephthalate (PBAT). Bioplast 900 packaging, which is 69 percent bio-based, is suitable for hot filling and products such as yoghurt. Other Bioplast applications include bin bags and carrier bags with a bio-based material content of over 50 percent from potato starch and PLA, agricultural films, and packaging for the cosmetics and food sector (e.g. fruit and vegetable bags). PHA is used to produce injection moulded items such as coffee capsules. In the case of water-based contents, water vapour barriers are used.
KINGFA Science & Technology Co. Ltd.
The Chinese company KINGFA Science & Technology Co. Ltd., with a holding company in Wiesbaden, is the world's largest producer of modified plastics such as carrier bags, bin bags, mulch films, ropes, office materials and disposable items such as gloves and cutlery. Their Ecopond production with a capacity of 30,000 tonnes, which is distributed worldwide, is worthy of special mention. KINGFA, with all its holdings, produces 1,500,000 tonnes of packaging per year.
Loick Biowertstoff
The Loick Group has been producing various fillers from renewable raw materials since 1994.
Novamont S.p.A.
Novamont processes conventional maize starch from Cargill in Terni (Italy) into its Mater-Bi® product. These are various granules made from maize starch, vegetable oil, beet sugar (bio-butanediol) and polylactides, which form complexes by reactive extrusion.
The properties of the various types of Mater-Bi® differ in many ways. In terms of mechanical characteristics, the range extends from products with a low modulus of elasticity and very high toughness to stiff products that tend to be brittle. Optically, the range extends from milky to transparent materials. All commercial types can be processed with the same machines as conventional plastics, e.g. blown film extrusion, film casting, extrusion, thermoforming and injection moulding. The annual capacity is 150,000 tonnes (in 2019).
Rodenburg Biopolymers
This dutch company produces bio-based, degradable biopolymers:
Solanyl®: based on potato starch, for carrier bags and non-food applications
FlourPlast®: Additive for compounders for PLA, PHA, PCL PE, PP
Optinyl®: Additive for compounders to improve their properties
Rodenburg Biopolymers is cooperating with the initiator Taghleef Industry and Mondi on the new bio-based packaging "Nativia Ness". Nativia Ness is made of potato starch and PLA and is being tested by Mars Inc. as a new packaging. The annual capacity is 60,000 tonnes.
The Gaialene® range of starch compounds are films or blown containers for cosmetic products and foamed products for protective packaging. The bio-based content exceeds 50 percent. The packaging is not biodegradable and has similar properties to PE or PP.
Agrana
With its AMITROPLAST product family, the Austrian company AGRANA produces tailor-made thermoplastic starches for extrusion, film blowing, injection moulding and 3D printing. In addition, AGRANA's AGENACOMP product range includes bioplastic compounds that contain up to 50% renewable resources and are suitable for home composting.
The following is a non-exhaustive alphabetical list of the converters in the starch compounds segment considered essential by the project team.
Klöckner Pentaplast
Klöckner Pentaplast, in collaboration with Plantic Technologies Limited, distributes Biofilm™ TPS films (rigid starch-based thermoplastic films) for retail packaging. The company operates a centre for application support.
Wentus Kunststoff GmbH
Wentus is a German manufacturer specialising mainly in the production of compostable organic waste bags made of starch (percentage of the range > 90 percent). It also produces packaging for fruit and vegetables. The range also includes packaging made from bio-PE.
Limagrain FR
French manufacturer of starch-based materials from cereals. The packaging material Biolice is mainly used for sack goods (cement packaging, bags, pouches, etc.) as well as for mulch films, trays and injection-moulded items. Biolice is industrially compostable according to DIN EN 13432.
Starch compounds are generally well suited for dry, non-hygroscopic products (e.g. lentils). They have a high water vapour permeability. Therefore, they are currently not suitable for rice and pasta, which require a higher water vapour barrier.
Foils/bags: Carrier bags, bags for hard fruit or vegetables (e.g. carrot and potato bags), flowpack film
Composites for packaging: e.g. for coffee
Thermoformed trays for fruits and cups
Bottles: Only in combination with other polymers. The starch compounds are used as a coating.
Catering: plates and cups coated with Mater-Bi®, cutlery
Other applications: bread bags made of paper coated with starch compounds, applications outside the packaging sector (e.g. lids, nappy films), coated paper and cardboard, injection-moulded plastic items for vegetable growing, mulch films, organic waste bags
Well suited for dry, non-hygroscopic products (e.g. lentils). Currently not yet suitable for rice and pasta, as the water vapour barrier is low. Hence, the material has a high water vapour permeability.
The biopolymer database lists the material properties of starch compounds according to use.
The main ingredients are maize and potatoes. Other ingredients include vegetable oils and sugar. Various raw materials can be used as a source of sugar, e.g. barley, cassava, wheat, potatoes, sugar beet or sago. Experiments are also being carried out with agricultural by-products or residues.

1. Ecology
For the ecology criterion, seven sub-criteria (parameters), which are considered essential for organic food producers, have been included in the assessment: land use/competition for food, environmental compatibility, certifications (cultivation and processing), genetic engineering, end of life (recycling, composting), life cycle assessments and bio-based content.
2. Social compatibility
For the social compatibility criterion, the assessment refers to the existence of social standards in cultivation and processing. These can be internationally valid guidelines, national legal standards or private sector standards. The social standards of the country from which the raw material originates or in which the processing takes place are used as a basis for the assessment.

Novamont
Novamont sources most of its renewable raw materials from Europe. This means that EU social standards apply to cultivation. The company is certified according to the ISCC PLUS standard.
Novamont has an "Ethical Code" for its relations with employees, customers, the public and suppliers.
Biotec
This company sources its raw materials from Germany and France. This means that EU social standards apply to cultivation.

The manufacturers of starch compounds produce in Europe. This means that EU social standards apply.
Novamont
Novamont produces in Italy (Terni). The company has an "Ethical Code" for its relations with employees, customers, the public and suppliers.
Wentus
This company produces in Germany (Höxter). Wentus is certified according to the GKV Code of Conduct.
3. Safety and technology
Product quality must be guaranteed. The packaging must not react with the product and must prevent it from reacting with the external environment. Regarding technology, the technological processability of the packaging material is evaluated. Can it be processed on standard machines? What adjustments, if any, must be made? Are there any compromises in terms of quality, processing speed or durability?
4. Quality
The quality criterion encompasses the legal requirements for packaging material (section 4.1). According to the German Federal Institute for Risk Assessment (BfR) standards, "quality" means compliance with the legal requirements and BfR specifications for packaging. Ecological and environmental aspects are important criteria for bio-based packaging. Packaging reactions with different goods and thus different stability requirements must be avoided. At the same time, excessive demands can lead to costly, unsustainable packaging. Bio-based packaging can often offer advantages such as biodegradability. Consumers demand transparent and truly sustainable packaging with the same handling quality.